A polypropylene woven cord
Woven cords are designed for industrial and amateur fishing as well as for repair and construction hauling tools. They can be used for sporting purposes for tents placing, awning stretching, lifting of non-cargo loads, in building.
Cords diameter: from 6 mm to 20 mm.
Colour: white, color monochrome and multicolor
A polypropylene rope is strong enough – its strength is the same in dry and wet condition.
A polypropylene woven cord is elastic; it has high thermal insulation and electrical insulation properties; it is easily knotted. A polypropylene rope is frost-resistant enough.  But its melting point is quite low.
A polypropylene woven cord is very light – it doesn't sink. It makes polypropylene articles popular in such areas as fishing and in all connected with water spheres.
A tether (nylon)
A tether (nylon) is a woven reusable article. In contrast to cords and ropes it is woven from a twisted fiber which adds it high operating characteristics.
Polyamide tethers are for different purposes. They are used in building and industry for vessels rigging, cargo operations, outdoor activities, as an element for fixing of: tents, awnings, sledges, swings, as well as in animal husbandry.
Diameter of tethers: from 6 to 14 mm.
A tether has high strength and good wear resistance and can withstand high loads.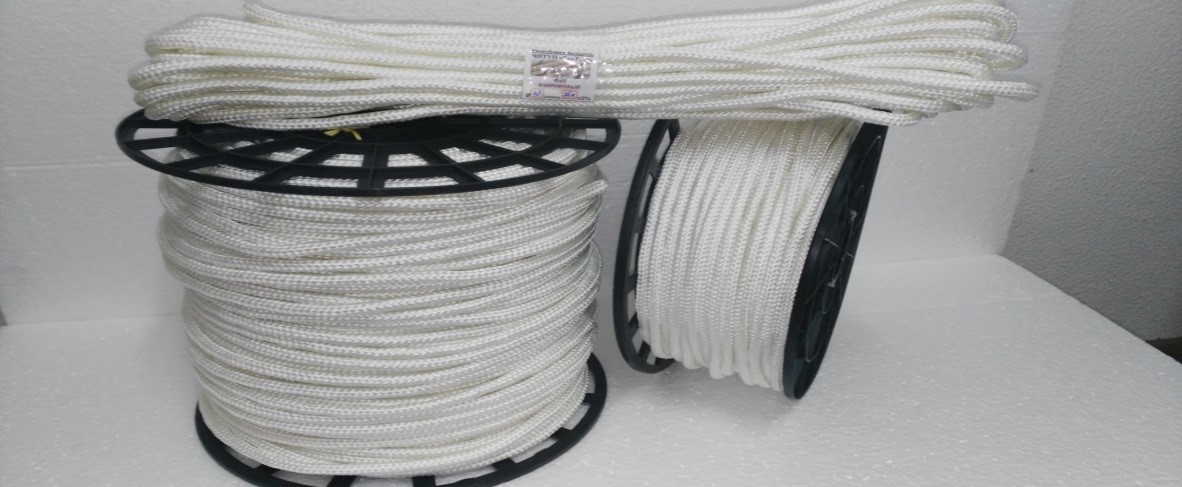 A spiral cord
Description of a spiral cord:
- high-strength;
- high bending-resistant;
-high abrasion-resistant;
-spiral cord strength is the same in dry and wet condition;
-the article is quite frost-resistant;
-it can be freely exploited at temperature up to -60°С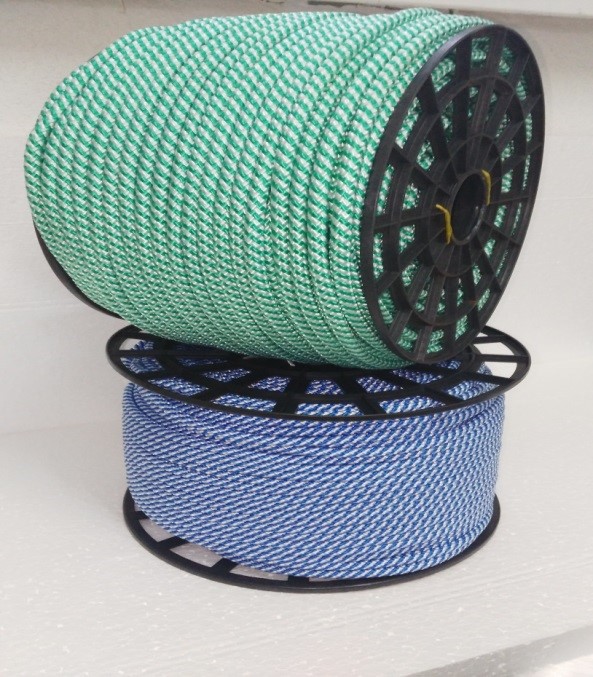 A polyamide high-strength cord
Polyamide cords are in use long and reliable, withstand dynamic loads perfectly, they are wear resistant and durable. Due to the fact that this cord is elastic, it perfectly withstands sudden sharp jerks. The cord is abrasion-resistant, rot-resistant, and lighting-thermo stable.   
But there are some disadvantages – a cord can deteriorate under the influence of acidic liquids. As well, during operation with a polyamide rope and other products it's necessary to avoid excessive electrization.
A twisted thread
A polypropylene twisted thread is used as a guide to ensure straightness and horizontal rows of masonry as well as uniform thickness of horizontal joints.
Masons use a thread to determine what position should have each brick stacked a mile. Using a thread allows not only facilitate a mason's work, but also to get perfectly smooth brickwork. A twisted thread is used for checking roof eaves, in fishing and in fishing tackle manufacturing.
A nylon twisted thread is high-strength and wear-resistant, lighting-thermo stable, rot-resistant and adapted to aggressive environments.
A two-colour twisted thread consists of nylon fiber which makes a service life minimum several times longer. Due to its double colour, thread is considerably more visible at many types of work.